"Official Selection" Winner in the E-Book Young Adult category, 2015 New Apple Book Awards!
Winner Best Books in the Young Adult category, 2016 Pinnacle Book Achievement Awards!
"Honorable Mention" Winner in the Sci-fi category, 2016 New York Book Festival!
B.R.A.G Medallion Honoree, 2016 indieBRAG!
Bronze Medal Winner in the Young Adult General category, 2016 Readers' Favorite International Book Awards!
Award Finalist in the Young Adult category, 2016 Book Excellence Awards!
"Honorable Mention" Winner in the Young Adult category:
2016 Hollywood Book Festival
2016 Northern California Book Festival
2016 Southern California Book Festival
2017 Florida Book Festival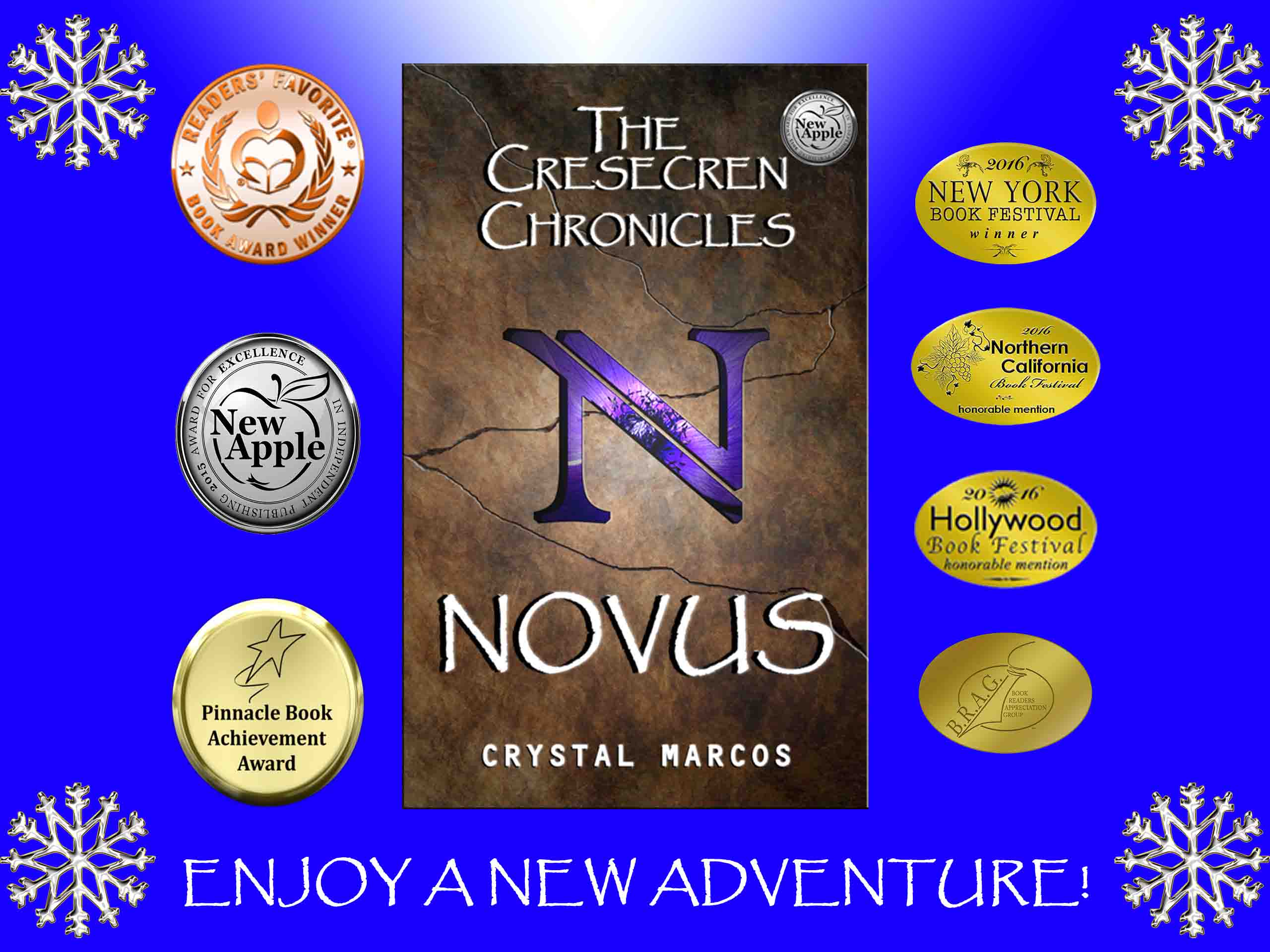 ---
5-star: "Judge, 24th Annual Writer's Digest Self-Published Book Awards."
You know you've read a good book when you close the book and sigh, sad that it is over. Then when you go to sleep you dream about that book world. This book did that. The author fully engages the reader audience from the first page. The reader is filled with empathy for the Crescren race and understands that in today's world it might be possible for this to occur.  There were enough plot twists to keep the reader turning pages but not so many that the reader isn't able to follow. This author has a unique and creative talent for this genre. The character, Cayden is the main character and you see him change from the beginning to end in the way a child might change into an adult, only faster. The supporting characters did what they needed to do by adding to Cayden's journey without taking over the story. The only small hiccup I discovered what the introduction that there was a traitor among them. That was very low-key and this reader was prepared for something huge by the end. But then, this is only book one so who knows what the author has planned for book two? This book gave the reader a satisfying ending but easily left an opening for the next book to follow.
5-star: Kim Anisi for Readers' Favorite (click to see on Readers' Favorite)
I would recommend not starting Novus (The Cresecren Chronicles, Book 1) by Crystal Marcos if you have anything planned for the rest of the day, as you will most likely not want to put the book down! Cayden, the main character, is a Cresecren, similar to humans, but made to serve them. Cayden ended up in a colony of Cresecrens who are either not fit to serve any longer or who have been outcasts for some reason. One day, Cayden's life changes completely. He meets an interesting human girl, and then is involved in a rather unpleasant chain of events (which I can't mention as that would be spoilers!) which lead to him and a group of others being on the run, and finding out that the world out there is full of things that are not as they seem.
Novus by Crystal Marcos is one of those gems that make you care about the characters within the story, and while you definitely want to know what happens to them, you can't help but also not want to get to the end of the book. It's the kind of book whose characters you miss when you finish the book. There is good news though, it's the first book in a series and if Crystal writes as well in the second book then it will also be a fantastic read. There still is a lot to explore, quite a few issues to be resolved, and I am sure that more interesting characters will be waiting for readers.

5-star: WordsAPlenty.com (click to see on WordsAPlenty)
Action packed, futuristic dystopian world is exciting and realistic.  Crystal Marcos, author, does an excellent job of creating this future world and raising moral questions within the story through Cayden, his friends and enemies.
The characters are fully developed; the plot is executed perfectly tying everything together.  Marcos is a splendid storyteller with a rich and vivid vocabulary to capture the attention of her audience.   She develops the underdog, Cayden, beautifully giving his voice a strong presence.  Marcos captures the emotional and mental state of teenagers expertly allowing her readers to grasp those emotions and thoughts clearly.
This is a story that not only will have you thinking about it long after you have turned the last page but the characters will continue to pop into your mind.  As a reader you want to rush to the end to see what happens but in the same sense you don't want the book to end.
WordsAPlenty gives this book a 5 star rating for its clear writing style, action, character development and attention holding plot.  Kudos to Crystal Marcos!
4½-star: Girl Plus Book YA Blog (click to see the blog entry)
Adventure-packed experience with a Cinder-like feel and a iRobot-like storyline. Marcos takes you into a dystopian world where humans have made a new being to aid in the survival of the human race. The Cresecrens, essentially a new race whose sole purpose is to serve humans. No rights, no freedom. Humans and Cresecrens live peacefully within their own boundaries, until one unexplainable event, all that changes.
From character development to plot twists, Marcos' story comes together beautifully. There is never a slow or dull moment: conspiracy, forbidden love, hidden cities, battles, and more; you are sure to read this book in one sitting.
Recent Website Appearances